The Reason for the TDD
A Parents' Promise to Their Three Tiny Sons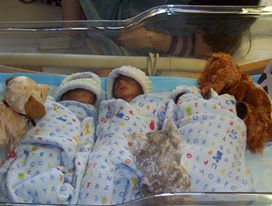 Tyrus, Dante, and Daniel Vescio were born on April 8, 2005, and died shortly afterwards. Despite being surrounded by the best medical care, these three babies had entered this world before their bodies were ready to live outside the womb. That day, Don and Elaine Vescio promised each son that he would never be forgotten, and that his parents would help other babies live long, healthy lives.
The genesis for the TDD was at Tyrus, Dante, and Daniel's funeral when Elaine, looked around and saw and felt so much grief. That feeling prompted her to (totally unplanned) tell the people that had gathered, "Don and I do not want our sons remembered only in sadness and in grief. They are blessings, and we are going to remember them and love them every single day".
The first TDD Triathlon took place in Douglas, MA in 2009. Each year, hundreds of triathletes raced at that event, remembering Tyrus, Dante, and Daniel while raising funds for the UMass Memorial NICU.
In 2017, the Vescio Family met with the UMass Memorial NICU and explained that it was time to expand the mission of the TDD to make it more inclusive. The event was changed to a 5K and fun run with a focus on remembering all the babies who have left the world too soon. That is what the TDD 5K is about--gathering together to celebrate life while doing something enjoyable--running or walking a 5K or a fun run. The TDD 5K is keeping the promise that was made to Tyrus, Dante, and Daniel.